Bönnekamp G Clevis with female thread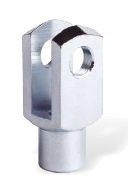 Female thread M4x0,7 - M48x2
According DIN 71752
Zinc plated, untreated, Stainless Steel
Downloads:
Clevises with female thread, according to DIN71752 / DIN ISO 8140 / CETOP
Code of thread:
Code of thread: fine-pitch thread - FG, left-handed thread - LH, fine-pitch and left-handed thread-FGLH.
Available from stock.
Material and surface treatments:
Low carbon steel Q235A; Coated with rust-proof oil or zinc plated.
Alternative stainless steel 304 or stainless steel 316.
Clevises Assembly
Available with clips, pins, spacers etc. for mounting.
Diversity Clevises :

76.01.01.0001 Bönnekamp Clevis G4 x 8 M4x0,7 zinc plated
76.01.01.0002 Bönnekamp Clevis G4 x 16 M4x0,7 zinc plated
76.01.01.0002L Bönnekamp Clevis G4 x 16 M4x0,7 zinc plated (left)
76.01.01.0003 Bönnekamp Clevis G5 x 10 M5x0,8 zinc plated
76.01.01.0003L Bönnekamp Clevis G5 x 10 M5x0,8 zinc plated (left)
76.01.01.0004 Bönnekamp Clevis G5 x 20 M5x0,8 zinc plated
76.01.01.0004L Bönnekamp Clevis G5 x 20 M5x0,8 zinc plated (left)
76.01.01.0006 Bönnekamp Clevis G6 x 12 M6x1 zinc plated
76.01.01.0006L Bönnekamp Clevis G6 x 12 M6x1 zinc plated (left)
76.01.01.0008 Bönnekamp Clevis G6 x 24 M6x1 zinc plated
76.01.01.0008L Bönnekamp Clevis G6 x 24 M6x1 zinc plated (left)
76.01.01.0011 Bönnekamp Clevis G8 x 16 M8x1,25 zinc plated
76.01.01.0011L Bönnekamp Clevis G8 x 16 M8x1,25 zinc plated (left)
76.01.01.0013 Bönnekamp Clevis G8 x 32 M8x1,25 zinc plated
76.01.01.0013L Bönnekamp Clevis G8x32 M8x1,25 zinc plated (left)
76.01.01.0016 Bönnekamp Clevis G10 x 20 M10x1,25 (MF) zinc plated
76.01.01.0016L Bönnekamp Clevis G10 x 20 M10x1,25 (MF) zinc plated (left)
76.01.01.0017 Bönnekamp Clevis G10 x 20 M10x1,5 zinc plated
76.01.01.0017L Bönnekamp Clevis G10 x 20 M10x1,5 zinc plated (left)
76.01.01.0020 Bönnekamp Clevis G10 x 40 M10x1,25 (MF) zinc plated
76.01.01.0021 Bönnekamp Clevis G10 x 40 M10x1,5 zinc plated
76.01.01.0021L Bönnekamp Clevis G10 x 40 M10x1,5 zinc plated (left)
76.01.01.0022 Bönnekamp Clevis G12 x 24 M12x1,25 (MF) zinc plated
76.01.01.0024 Bönnekamp Clevis G12 x 24 M12x1,75 zinc plated
76.01.01.0024L Bönnekamp Clevis G12 x 24 M12x1,75 zinc plated (left)
76.01.01.0026 Bönnekamp Clevis G12 x 48 M12x1,25 (MF) zinc plated
76.01.01.0027 Bönnekamp Clevis G12 x 48 M12x1,75 zinc plated
76.01.01.0027L Bönnekamp Clevis G12 x 48 M12x1,75 zinc plated (left)
76.01.01.0028 Bönnekamp Clevis G14 x 28 M14x1,5 (MF) zinc plated
76.01.01.0029 Bönnekamp Clevis G14 x 28 M14x2 zinc plated
76.01.01.0029L Bönnekamp Clevis G14 x 28 M14x2 zinc plated (left)
76.01.01.0030 Bönnekamp Clevis G14 x 56 M14x1,5 (MF) zinc plated
76.01.01.0031 Bönnekamp Clevis G14 x 56 M14x2 zinc plated
76.01.01.0032 Bönnekamp Clevis G16 x 32 M16x1,5 (MF) zinc plated
76.01.01.0033 Bönnekamp Clevis G16 x 32 M16x2 zinc plated
76.01.01.0033L Bönnekamp Clevis G16 x 32 M16x2 zinc plated (left)
76.01.01.0035 Bönnekamp Clevis G16 x 64 M16x1.5 (MF) zinc plated
76.01.01.0036 Bönnekamp Clevis G16 x 64 M16x2 zinc plated
76.01.01.0036L Bönnekamp Clevis G16 x 64 M16x2 zinc plated (left)
76.01.01.0037 Bönnekamp Clevis G18 x 36 M18x1,5 (MF) zinc plated
76.01.01.0038 Bönnekamp Clevis G18 x 36 M18x2,5 zinc plated
76.01.01.0039 Bönnekamp Clevis G20 x 40 M20x1,5 (MF) zinc plated
76.01.01.0039L Bönnekamp Clevis G20 x 40 M20x1,5 (MF) zinc plated (left)
76.01.01.0040 Bönnekamp Clevis G20 x 40 M20x2,5 zinc plated
76.01.01.0040L Bönnekamp Clevis G20 x 40 M20x2,5 zinc plated (left)
76.01.01.0043 Bönnekamp Clevis G25 x 50 M24x2 (MF) zinc plated
76.01.01.0044 Bönnekamp Clevis G25 x 50 M24x3 zinc plated
76.01.01.0044L Bönnekamp Clevis G25 x 50 M24x3 zinc plated (left)
76.01.01.0045 Bönnekamp Clevis G30 x 54 M27x2 (MF) zinc plated
76.01.01.0046 Bönnekamp Clevis G30 x 60 M30x3,5 zinc plated
76.01.01.0047 Bönnekamp Clevis G35 x 72 M36x2 (MF) zinc plated
76.01.01.0050 Bönnekamp Clevis G42 x 84 M42x4,5 zinc plated
76.01.01.0053 Bönnekamp Clevis G42 x 84 M42x2 (MF) zinc plated
76.01.01.0054 Bönnekamp Clevis G50 x 96 M48x5 zinc plated
76.01.02.0001 Bönnekamp Clevis G4 x 8 M4x0,7 stainless steel (304)
76.01.02.0002 Bönnekamp Clevis G5 x 10 M5x0,8 stainless steel (304)
76.01.02.0003 Bönnekamp Clevis G5 x 20 M5x0,8 stainless steel (304)
76.01.02.0004 Bönnekamp Clevis G6 x 12 M6x1 stainless steel (304)
76.01.02.0004L Bönnekamp Clevis G6 x 12 M6x1 stainless steel (304) (left)

76.01.02.0005 Bönnekamp Clevis G6 x 24 M6x1 stainless steel (304)
76.01.02.0006 Bönnekamp Clevis G8 x 16 M8x1,25 stainless steel (304)
76.01.02.0007 Bönnekamp Clevis G8 x 32 M8x1,25 stainless steel (304)
76.01.02.0008 Bönnekamp Clevis G10 x 20 M10x1,25 (MF) stainless steel (304)
76.01.02.0009 Bönnekamp Clevis G10 x 20 M10x1,5 stainless steel (304)
76.01.02.0010 Bönnekamp Clevis G10 x 40 M10x1,5 stainless steel (304)
76.01.02.0011 Bönnekamp Clevis G12 x 24 M12x1,25 (MF) stainless steel (304)
76.01.02.0012 Bönnekamp Clevis G12 x 24 M12x1,75 stainless steel (304)
76.01.02.0013 Bönnekamp Clevis G12 x 48 M12x1,75 stainless steel (304)
76.01.02.0014 Bönnekamp Clevis G14 x 28 M14x1,5 (MF) stainless steel (304)
76.01.02.0015 Bönnekamp Clevis G14 x 28 M14x2 stainless steel (304)
76.01.02.0016 Bönnekamp Clevis G16 x 32 M16x1,5 (MF) stainless steel (304)
76.01.02.0016L Bönnekamp Clevis G16 x 32 M16x1,5 (MF) stainless steel (304) (left)
76.01.02.0017 Bönnekamp Clevis G16 x 32 M16x2 stainless steel (304)
76.01.02.0018 Bönnekamp Clevis G16 x 64 M16x2 stainless steel (304)
76.01.02.0020 Bönnekamp Clevis G20 x 40 M20x1,5 (MF) stainless steel (304)
76.01.02.0021 Bönnekamp Clevis G20 x 40 M20x2,5 stainless steel (304)
76.01.02.0023 Bönnekamp Clevis G18 x 36 M18x1,5 (MF) stainless steel (304)
76.01.03.0001 Bönnekamp Clevis G4 x 8 M4x0,7 stainless steel (316)
76.01.03.0002 Bönnekamp Clevis G5 x 10 M5x0,8 stainless steel (316)
76.01.03.0003 Bönnekamp Clevis G5 x 20 M5x0,8 stainless steel (316)
76.01.03.0004 Bönnekamp Clevis G6 x 12 M6x1 stainless steel (316)
76.01.03.0005 Bönnekamp Clevis G6 x 24 M6x1 stainless steel (316)
76.01.03.0006 Bönnekamp Clevis G8 x 16 M8x1,25 stainless steel (316)
76.01.03.0007 Bönnekamp Clevis G8 x 32 M8x1,25 stainless steel (316)
76.01.03.0008 Bönnekamp Clevis G10 x 20 M10x1,25 (MF) stainless steel (316)
76.01.03.0009 Bönnekamp Clevis G10 x 20 M10x1,5 stainless steel (316)
76.01.03.0010 Bönnekamp Clevis G10 x 40 M10x1,5 stainless steel (316)
76.01.03.0011 Bönnekamp Clevis G12 x 24 M12x1,25 (MF) stainless steel (316)
76.01.03.0012 Bönnekamp Clevis G12 x 24 M12x1,75 stainless steel (316)
76.01.03.0013 Bönnekamp Clevis G16 x 32 M16x1,5 (MF) stainless steel (316)
76.01.03.0014 Bönnekamp Clevis G16 x 32 M16x2 stainless steel (316)
76.01.03.0015 Bönnekamp Clevis G16 x 64 M16x2 stainless steel (316)
76.01.03.0016 Bönnekamp Clevis G20 x 40 M20x1,5 (MF) stainless steel (316)
76.01.03.0017 Bönnekamp Clevis G20 x 40 M20x2,5 stainless steel (316)
76.01.04.0001 Bönnekamp Clevis G8x32 M8x1,25 NOT PLATED, lightly oiled
76.01.04.0002 Bönnekamp Clevis G10 x 20 M10x1,5 NOT PLATED, lightly oiled
76.01.04.0003 Bönnekamp Clevis G12 x 24 M12x1,75 NOT PLATED, lightly oiled
76.01.04.0004 Bönnekamp Clevis G20 x 40 M20x2,5 NOT PLATED, lightly oiled
76.01.04.0005 Bönnekamp Clevis G8x16 M8x1,25 NOT PLATED, lightly oiled
76.03.01.0001 Bönnekamp Clevis (not mounted) G5x10 M5x0,8 + ES zinc plated
76.03.01.0004 Bönnekamp Clevis (not mounted) G6x12 M6x1 + ES zinc plated
76.03.01.0008 Bönnekamp Clevis (not mounted) G8x16 M8x1,25 + ES zinc plated
76.03.01.0012 Bönnekamp Clevis (not mounted) G10x20 M10X1,5 + ES zinc plated
76.03.01.0016 Bönnekamp Clevis (not mounted) G12x24 M12x1,75 + ES zinc plated
76.03.01.0037 Bönnekamp Clevis (not mounted) G10x20 M10x1,25 (MF) + ES zinc plated
76.03.01.0039 Bönnekamp Clevis (not mounted) G12x24 M12x1,25 (MF) + ES zinc plated
76.03.01.0040 Bönnekamp Clevis (not mounted) G16x32 M16x1,5 (MF) + ES zinc plated
76.03.01.0041 Bönnekamp Clevis (not mounted) G20x40 M20x1,5 (MF) + ES zinc plated
76.03.02.0001 Bönnekamp Clevis (not mounted) G6x12 M6x1 + GPA/C/R6 SS (304)
76.03.02.0002 Bönnekamp Clevis (not mounted) G8x16 M8x1,25 + GPA/C/R8 SS (304)
76.03.02.0003 Bönnekamp Clevis (not mounted) G10x20 M10x1,5 + GPA/C/R10 SS (304)
76.03.02.0004 Bönnekamp Clevis (not mounted) G10x20 M10x1,25 (MF) + GPA/C/R10 SS (304)
76.03.02.0006 Bönnekamp Clevis (not mounted) G12x24 M12x1,25 (MF) + GPA/C/R12-16 SS (304)
76.03.02.0008 Bönnekamp Clevis (not mounted) G16x32 M16x1,5 (MF) + GPA/C/R12-16 SS (304)
76.03.02.0010 Bönnekamp Clevis (not mounted) G20x40 M20x1,5 (MF) + GPA/C/R20-25 SS (304)