Bönnekamp B-BS Angle joint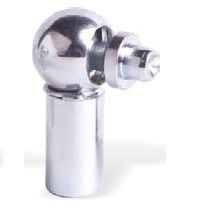 Angle joints according DIN71802
Ball stud type B without thread
Zinc plated or stainless steel
Downloads:
Complete program of right-angled ball joints according to DIN71802
Female thread M5 - M16.
Available in steel zinc plated, stainless steel 304 or stainless steel 316.
Available from stock.
Complete inclusive:
ball stud (DIN71803) - type B / BS: without thread.
ball socket (DIN71805) - without safety clip (type B) and with safety clip (type BS)

The ball socket and ball stud can be delivered seperately as well.
Ball joints and Ball sockets :

75.99.11.0001 Bönnekamp Ball Socket B 8 M5x0,8 zinc plated
75.99.11.0002 Bönnekamp Ball Socket B 10 M6x1 zinc plated
75.99.11.0003 Bönnekamp Ball Socket B 10 M6x1 stainless steel (304)

75.99.11.0004 Bönnekamp Ball Socket B 13 M8x1,25 zinc plated