Bönnekamp SA Rod end galvanised or stainless steel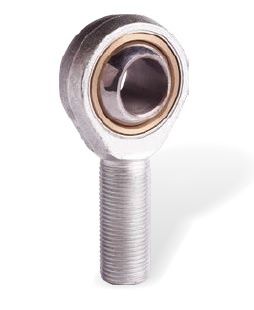 Female thread: M5x0.8 - M48x2.0
Maintenance free - inner ring brass/PTFE
Galvanized steel or stainless steel
Downloads:
Rod End with male thread from M5x0.8 to M48 x 2.0
Available in different sizes:
SA - Zinc plated with bronze PTFE inlay: Suitable for dynamic loads and low speed
SSA - Stainless steel Teflon: For eg food and pharmaceutical industry universal (normal load) 100% stainless steel
Delivery from stock.
Material and surface treatments:
Body: medium carbon steel 45, zinc plating; Steel ball: bearing steel GCr15 without chromium plating; Inner ring: copper H62; with PTFE.
Body: stainless steel 304 or stainless steel 316.
Steel ball: alternative bearing steel GCr15 with hard chrome plating or stainless steel 440C; Inner ring: alternative low carbon steel 20 or stainless steel 304.
Rod ends with male thread :

73.01.04.0001 Bönnekamp Rod End SA 5 M5x0,8 zinc plated
73.01.04.0001L Bönnekamp Rod End SA 5 M5x0,8 zinc plated (links)
73.01.04.0002 Bönnekamp Rod End SA 6 M6x1 zinc plated
73.01.04.0002L Bönnekamp Rod End SA 6 M6x1 zinc plated (left)
73.01.04.0003 Bönnekamp Rod End SA 8 M8x1,25 zinc plated
73.01.04.0003L Bönnekamp Rod End SA 8 M8x1,25 zinc plated (left)
73.01.04.0004 Bönnekamp Rod End SA 10 M10x1,25 (MF) zinc plated
73.01.04.0005 Bönnekamp Rod End SA 10 M10x1,5 zinc plated
73.01.04.0005L Bönnekamp Rod End SA 10 M10x1,5 zinc plated (left)
73.01.04.0006 Bönnekamp Rod End SA 12 M12x1,25 (MF) zinc plated
73.01.04.0007 Bönnekamp Rod End SA 12 M12x1,75 zinc plated
73.01.04.0007L Bönnekamp Rod End SA 12 M12x1,75 zinc plated (left)
73.01.04.0008 Bönnekamp Rod End SA 14 M14x1,5 (MF) zinc plated
73.01.04.0009 Bönnekamp Rod End SA 14 M14x2 zinc plated
73.01.04.0009L Bönnekamp Rod End SA 14 M14x2 zinc plated (left)
73.01.04.0010 Bönnekamp Rod End SA 16 M16x1,5 (MF) zinc plated
73.01.04.0011 Bönnekamp Rod End SA 16 M16x2 zinc plated
73.01.04.0011L Bönnekamp Rod End SA 16 M16x2 zinc plated (left)
73.01.04.0012 Bönnekamp Rod End SA 18 M18x1,5 (MF) zinc plated
73.01.04.0013 Bönnekamp Rod End SA 20 M20x1,5 (MF) zinc plated
73.01.04.0013L Bönnekamp Rod End SA 20 M20x1,5 (MF) zinc plated (left)
73.01.04.0014 Bönnekamp Rod End SA 20 M20x2,5 zinc plated
73.01.04.0015 Bönnekamp Rod End SA 25 M24x2 (MF) zinc plated

73.01.04.0016 Bönnekamp Rod End SA 30 M30x2 (MF) zinc plated
73.01.05.0001 Bönnekamp Rod End SSA 5 M5x0,8 stainless steel (304)
73.01.05.0002 Bönnekamp Rod End SSA 6 M6x1 stainless steel (304)
73.01.05.0003 Bönnekamp Rod End SSA 8 M8x1,25 stainless steel (304)
73.01.05.0003L Bönnekamp Rod End SSA 8 M8x1,25 stainless steel (304) (left)
73.01.05.0004 Bönnekamp Rod End SSA 10 M10x1,25 (MF) stainless steel (304)
73.01.05.0005 Bönnekamp Rod End SSA 10 M10x1,5 stainless steel (304)
73.01.05.0005L Bönnekamp Rod End SSA 10 M10x1,5 stainless steel (304) (left)
73.01.05.0006 Bönnekamp Rod End SSA 12 M12x1,25 (MF) stainless steel (304)
73.01.05.0007 Bönnekamp Rod End SSA 12 M12x1,75 stainless steel (304)
73.01.05.0007L Bönnekamp Rod End SSA 12 M12x1,75 stainless steel (304) (left)
73.01.05.0008 Bönnekamp Rod End SSA 14 M14x1,5 (MF) stainless steel (304)
73.01.05.0009 Bönnekamp Rod End SSA 14 M14x2 stainless steel (304)
73.01.05.0010 Bönnekamp Rod End SSA 16 M16x1,5 (MF) stainless steel (304)
73.01.05.0011 Bönnekamp Rod End SSA 16 M16x2 stainless steel (304)
73.01.05.0012 Bönnekamp Rod End SSA 18 M18x1,5 (MF) stainless steel (304)
73.01.05.0013 Bönnekamp Rod End SSA 20 M20x1,5 (MF) stainless steel (304)
73.01.05.0013L Bönnekamp Rod End SSA 20 M20x1,5 (MF) stainless steel (304) (left)
73.01.05.0014 Bönnekamp Rod End SSA 30 M30x2 (MF) stainless steel (304)
73.01.05.0015 Bönnekamp Rod End SSA 25 M24x2 (MF) stainless steel (304)