New: Bönnekamp 3D download center
Datum: 20 july 2021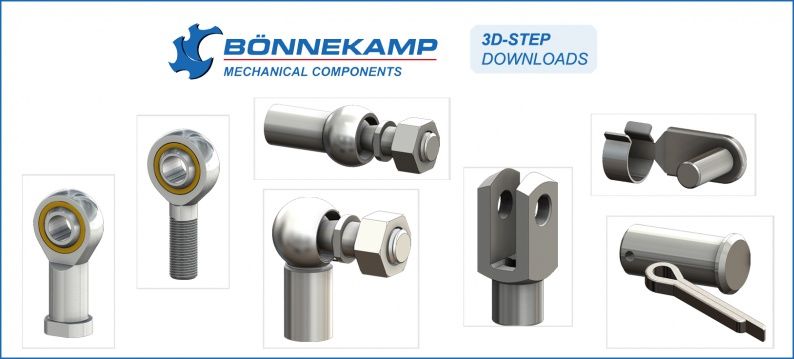 Rod ends, clevises and ball joints
You have to create milestones and that has happened again!
3 years ago we started with a completely new house style for BÖNNEKAMP products. At the same time, the geographical sales area has expanded from the Benelux to Europe. Thankful work in the view of the annual growth, which is achieved with this.
A lot of documentation is downloaded from the BÖNNEKAMP website.
But not only digitally, even the printed documentation is regularly sent by post.
- BÖNNEKAMP catalog complete program
- BÖNNEKAMP brochure Pneumatic Essentials
One important "tool" for engineers still had to be developed. A platform with downloads of digital 3D drawings as an extension of the existing website. And this milestone has now been fully realized. A download of all standard articles is available. All suitable accessories are also shown for each selected type of clevis, including downloads.
Visit the BÖNNEKAMP 3D DOWNLOAD CENTER.
Also accessible via the BÖNNEKAMP website.